barefut
100% Pure Essential Oils at Affordable Prices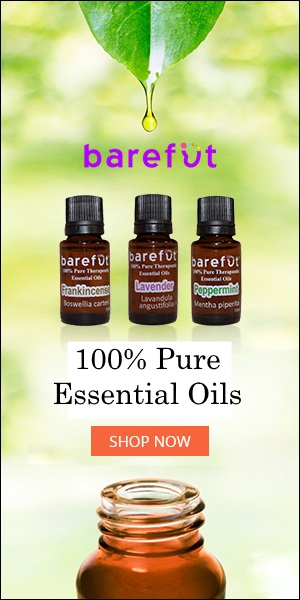 Disclaimer: This website includes affiliate and referral links. If you make a purchase through them, we may receive a small commission at no extra cost to you.
Barefut offers a significant selection of organically grown and ethically sourced essential oils, and I was impressed by their reasonable prices. Their oils are GC/MS tested at the Essential Oil University and each batch's report is listed on their website.
Founded in 2010 to meet local need, this Utah based company has flourished through online sales and word of mouth. I discovered them while researching oils for this website and I have been very pleased with this company so far!
If you like subscription boxes, they have 4 available including an Oil of the Month! I find these boxes are a great way to conserve these precious oils because you receive a small lot of oils at a very reasonable price and don't feel pressured by incentives to purchase more than you need.
Trying their oils, I was incredibly surprised! I have been conditioned to purchase expensive oils, but the quality and scent of these actually seemed more true to the plants. Their Helichrysum (Helichrysum gymnocephalum) is a beautiful scent and their Ho Wood (Cinnamomum camphora) is calming and lovely.
Barefut offers a points reward program, as well as monthly free gifts with purchase and free shipping on qualifying orders. They have an array of unique diffuser options too, like a mini USB diffuser and lots of jewelry.
They do use plastic in their packaging, and the oils arrived safely in a padded envelope wrapped in protective bubble wrap.
I enjoy using barefut oils in my diffuser blends and recommend them to friends looking for good oils at good prices. Explore their wide selection of oils, blends, products and accessories at https://barefut.com.